There's no getting around it: every oncology practice is being underpaid. Unfortunately, underpayments are commonplace throughout the industry, no matter the size or specialization of a particular practice.
Which of these top areas could be resulting in underpayments for your practice?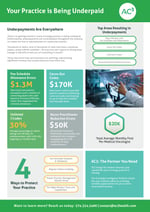 Fee Schedule Allowance Errors

Carve Out Codes
Unlisted J Codes
Nurse Practitioner Reduction Errors

Underpayments Are Everywhere.
Download Our Underpayments Fact Sheet Today.
Download Our Underpayments Fact Sheet