Manually navigating numerous payer contracts, hundreds of ambiguous fees schedules, innumerable exceptions, tens of thousands of CPT/NDC codes and ever-changing updates - and then intensify that with an exorbitant number of cumbersome manual processes. It's exhausting.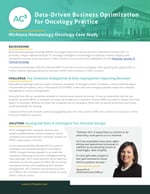 How are revenue cycle teams supposed to keep up? What if you had a tool that could synergize and automated data into intelligent, actionable insights that simplified workflows and optimized productivity?
Learn how one practice was able to:
Increase Net Collections
Increase Efficiency
Recover millions in payer underpayments and missed drug billings
Download Our MHO Case Study Today.
Download Our Michiana Hematology Oncology Case Study