J9999 pharmaceuticals are a necessary evil in practice management. They offer revolutionary new therapies for improved patient outcomes while being incredibly frustrating in terms of billing and timely reimbursement.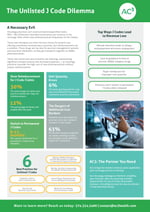 This fact sheet will teach you the top ways J Codes can lead to revenue loss and best practices for how to handle unlisted J Codes.
The Unlisted J Code Dilemma.
Download Our J Codes Fact Sheet Today.
Download Our J Codes Fact Sheet