AC3's Oncology Intelligence Platform surfaces invisible opportunities to drive recoverable revenue by uniting the power of technology and real-world experience to synergize data into actionable insights.

Could any of these be hiding in your data that could help you optimize revenue integrity?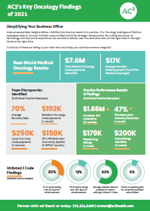 Payer Underpayments
Underbillings
Missed Drug Billings
Carve Out Codes
Adjustments
J Codes

See What We Found Hiding.
Download Our 2021 Key Oncology Findings Fact Sheet Today.
Download Our 2021 Key Oncology Findings Fact Sheet